Guide to NoSQL
See on
Scoop.it
-
Mongodb BigData NoSql & Search Engine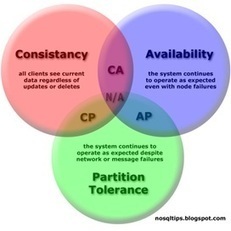 As part of the HP Software agenda of moving applications to Cloud and SaaS models, many developers and projects are dealing with the NoSQL dilemma. Do we need to use NoSQL? (Everybody is talking about NoSQL, hence, probably we need to use it too.) If yes, what is the most effective way to use it? This blog is not the definitive guide to a specific NoSQL solution. However, in this blog we will review the different examples and examples of when each NoSQL best suits your problem. So, if you came here to learn about Redis, MongoDB, Hadoop or Vertica, you will be very disappointed!



Let's start from the simple question – What is NoSQL?

Wikipedia definition: "NoSQL is a class of database management system identified by its non-adherence to the widely used relational database management system (RDBMS) model."



This definition is not very precise. There are NoSQL relational DBMS systems. This includes the first NoSQL system created by Carlo Strozzi in 1998 which defined it as NoSQL because it does not express its queries using SQL. It actually could be explained as non-SQL, but this is also incorrect since many NoSQL databases support SQL99 standard.

Another definition we can find in many communities for NoSQL is Not Only SQL. This is also very misleading since not all NoSQL databases support SQL.



Finally, the latest movement in this rapidly changing domain is to use a different abbreviator – NewSQL. The best definition I found is in Matthew Aslett's blog post: "NoSQL is SQL databases that provide scalable/high performance services while changing the SQL language that you manipulate the database data with." Since this implies horizontal scalability, which is not necessarily a feature of all the products, NewSQL is not to be taken too literally: the new thing about the NewSQL vendors is the vendor, not the SQL.
See on h30499.www3.hp.com